Cloud Services from NCC Data
Cloud computing has revolutionized data storage, productivity, and communications for businesses of all sizes.
NCC's cloud services eliminate the high capital expenses and maintenance required when buying and maintaining on-site hardware. Cloud computing offers access, organization, and storage of digital content anywhere there is internet access.
The cost of building computer hardware for information storage and hiring staff to maintain this hardware is eliminated with the cloud, reducing your bottom line and simplifying your processes.
Cloud computing with NCC is not only economical but also user-friendly. Storing sensitive data is hassle-free and secure. Information management is streamlined and efficient. Because of this, you are freed to focus on mission-critical business tasks rather than troubleshooting business software and hardware.
Cloud computing changes how information is delivered and stored, but the user experience and cost factors are greatly improved. Your information always remains secure, accessible, and under your control.

Cloud Service Options
NCC cutting-edge cloud services include:
Cloud Storage
Cloud Security
Cloud Server Back-Up
Cloud Server Hosting
Private Cloud Services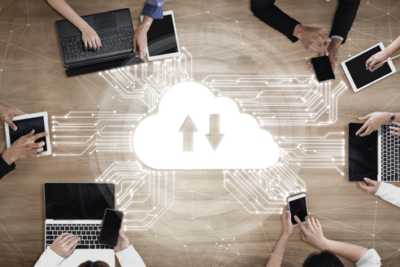 Managed Private Cloud Solutions
NCC offers private cloud services — a unique approach to software applications, file sharing, and file management —  to businesses of all sizes. Also known as internal or corporate cloud, this solution is the most customizable and personalized cloud option. When you take advantage of NCC's cloud services, you will always have access to your software, applications, and data. When more customization, availability, and control is required,  a private cloud hosted behind a firewall proves the ideal solution. Unlike a shared cloud solution, private clouds remain solely under the owner's control. As such, the level of control over the platform, customization of software and services, and security is greater than when using a public cloud.
Benefits of a Private Cloud
Reduce capital expenditures for storage and hardware.
Free up IT staff from performing time-consuming back-ups and server maintenance.
Perform rapid and effective disaster recovery whenever needed.
Provide access to software and services to employees in multiple locations.
Increase productivity with time saved on back-ups and updates.
Facilitates remote workers and decentralized workspace situations.
Consider employing a private cloud to streamline your business and shift your focus to top priorities, future growth, and long-term success. Contact NCC to discuss the benefits of cloud computing within your business. We specialize in managing IT and professional services, keeping your network secure, and optimizing your resources.  We proudly serve North Texas as one of the top independent IT solutions companies in the Dallas-Fort Worth Metroplex.

Software as a Service (SaaS)
SaaS is a subset of cloud computing that focuses on the use of software applications. Sometimes called "on-demand software," SaaS applications are hosted on the cloud and accessed through a web browser. This allows users to run the software anywhere there is an internet connection.
Not only does this setup increase productivity and flexibility, but it also offers significant reductions in associated hardware costs.
SaaS has become quite popular in several industries, including:
Human resources management
Accounting
Customer relations management
Managed information systems
Convenience and security are also positive factors. With SaaS, system and software are updated through the cloud; everyone will receive the latest updates simultaneously, and important security updates won't go unnoticed.
NCC makes Cloud SaaS very affordable, and we even handle the management of software licensing. This comprehensive service allows you to concentrate on the business at hand without worrying about administering your software tools.

Cloud Server Hosting Solutions
With cloud server hosting from NCC, your business information, documents, and applications are hosted remotely through the cloud. This eliminates the need for additional hardware and storage space at your physical location, reducing capital expenditures and maintenance woes. Cloud consolidation is a fantastic way to save your business time and money.
With our cloud server hosting solution, you retain full access to your data as well as control over the cloud platform. Your data is secure and always available, granting you more flexibility and opportunities for greater productivity. Unlike in-house servers, your cloud server will experience almost no downtime, and you won't lose precious time or dollars to maintenance.
Cloud Server Hosting Benefits
Greater security
No server maintenance
Managed backups
Centralization of services and products
You can rely on NCC for all of your business IT needs. Our IT specialists are trained to anticipate vulnerabilities, prevent security attacks and restore files lost due to technological disasters.